Rogue Hats
Rogue products have been manufactured by Selke Leathercraft in their factory in Hazyview, Mpumalanga Province of South Africa since 1972. It's a rural area, on the border of the Kruger National Park.
The region the factory is in has a high (50%) unemployment rate amongst adults - Selke are creating jobs by manufacturing in this rural area teaching people mainly the Shangaan tribe, skills and offering them the opportunity to stay in their tribal area instead of heading for the over-crowded cities.

The common element that's inherent with the Rogue products is that Tick marks, scars and scratches that you may find on their leather are natural!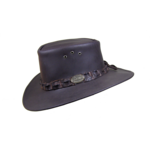 2mm Fullgrain leather with broad brim and ...
please log in first